Today, the ORDI token has grabbed the spotlight, experiencing a staggering 50% surge in its price within just 24 hours. This significant increase followed its recent listing on the Binance cryptocurrency exchange, marked with a prominent "seed" tag, signifying its status as an emerging project in the crypto sphere.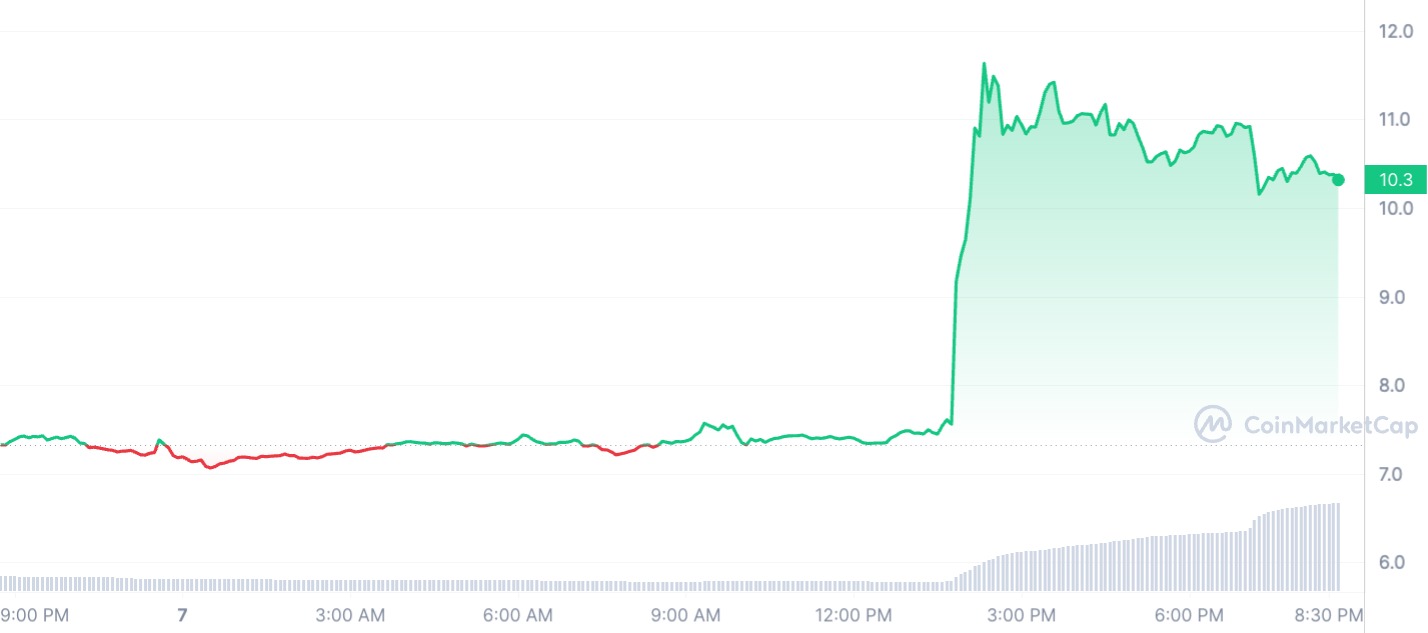 Binance, in a recent statement on Tuesday, emphasized that ORDI is a relatively new token accompanied by higher-than-average risks. The price of this digital asset is susceptible to substantial fluctuations, and users are urged to exercise caution. Binance advises potential investors to conduct comprehensive research on ORDI's fundamentals and gain a profound understanding of the project before engaging in any trading activities.
The announcement made waves on social media, with Binance sharing the news with their followers, reaffirming the listing of Ordinals' $ORDI with the Seed Tag applied. This move marks a significant milestone for ORDI, opening doors to new opportunities and challenges in the dynamic world of cryptocurrencies.
The price of ORDI displayed remarkable growth, escalating from approximately $7 on Monday to a noteworthy $11, as indicated by recent data. During this period, trading volumes experienced a substantial surge, reaching an impressive nearly $100 million within the span of just 24 hours. This surge in trading activity underscores the growing interest and confidence of investors in ORDI's potential.
At the heart of this surge lies the Ordinals protocol, a groundbreaking platform that allows users to embed references to digital art within small Bitcoin transactions. Introduced in April, this protocol followed the introduction of the Bitcoin Request for Comment (BRC-20) token standard. This standard revolutionized the crypto landscape, enabling users to create and transfer tokens directly on the Bitcoin network. The introduction of BRC-20 led to a rapid proliferation of digital art and meme tokens, leveraging the Bitcoin platform for innovative and creative expressions.
Since its inception in April, Ordinals has facilitated the issuance of over 38 million inscriptions. These inscriptions have not only enriched the digital art landscape but have also generated substantial developer fees, amounting to over $77 million in bitcoin (BTC), according to data from Dune Analytics.
As the crypto community continues to buzz with excitement, the surge in the ORDI token's value serves as a testament to the ever-changing and dynamic nature of the cryptocurrency market. Investors are reminded to stay vigilant, conduct thorough research, and make informed decisions to navigate the thrilling yet unpredictable world of cryptocurrencies. Stay tuned for more updates on this unfolding story, and remember, in the world of crypto, knowledge is your most valuable asset.