Can I Add Holesky to MetaMask?
Yes, you can add Holesky to your MetaMask wallet. Holesky is a new Ethereum testnet that aims to provide a more realistic and scalable testing environment for developers.
How to Add Holesky Testnet to MetaMask
The most straightforward approach to incorporate the Holesky Testnet into your MetaMask Wallet is by employing the ChainList App. This utility functions as a trusted repository for specifics about EVM networks, spanning across all Layer 1 and Layer 2 mainnets and testnets, including the Holesky Testnet. This ensures a seamless integration of the Holesky Testnet into your MetaMask wallet, eliminating the hassle of manual data input.
To kickstart your journey with the Holesky Testnet, follow these 4 uncomplicated steps:
Access the ChainList website and connect your wallet.
Select the 'include testnets' button near the search bar.
Use the search function at the top of the page to find 'Holesky Testnet'.
Click on the 'Add to MetaMask' option, and the verified RPC details for the Holesky Testnet will be effortlessly added to your MetaMask extension.
By adhering to this approach, you can indeed successfully incorporate the Holesky Testnet into your MetaMask wallet, thereby sidestepping the tedious task of manual data input.
‍
Holesky (Holesky Testnet) RPC Details
Below, we have delineated the authenticated RPC specifics for the Holesky Testnet. To assure absolute precision and dependability in the information, we advise consulting the official Holesky documentation or considering ChainList as a credible point of reference.
It's crucial to underscore that for a seamless and secure incorporation of the Holesky Testnet into your MetaMask wallet, cross-validating the details through various trustworthy avenues is highly recommended.
About Holesky
Holesky, emerging as Ethereum's latest testnet, is primed to take over the current Goerli testnet to better accommodate the growing needs of the Ethereum developer community. Conceived to host a more extensive set of validators in comparison to the mainnet, it strives to provide more comprehensive testing conditions, thereby curtailing potential issues on the mainnet.
Timed to take off on the anniversary of Ethereum's Merge, Holesky assures a more true-to-life network testing environment. It addresses the past supply limitations witnessed with Goerli, and charts a path for a more fluid developmental course in the Ethereum ecosystem.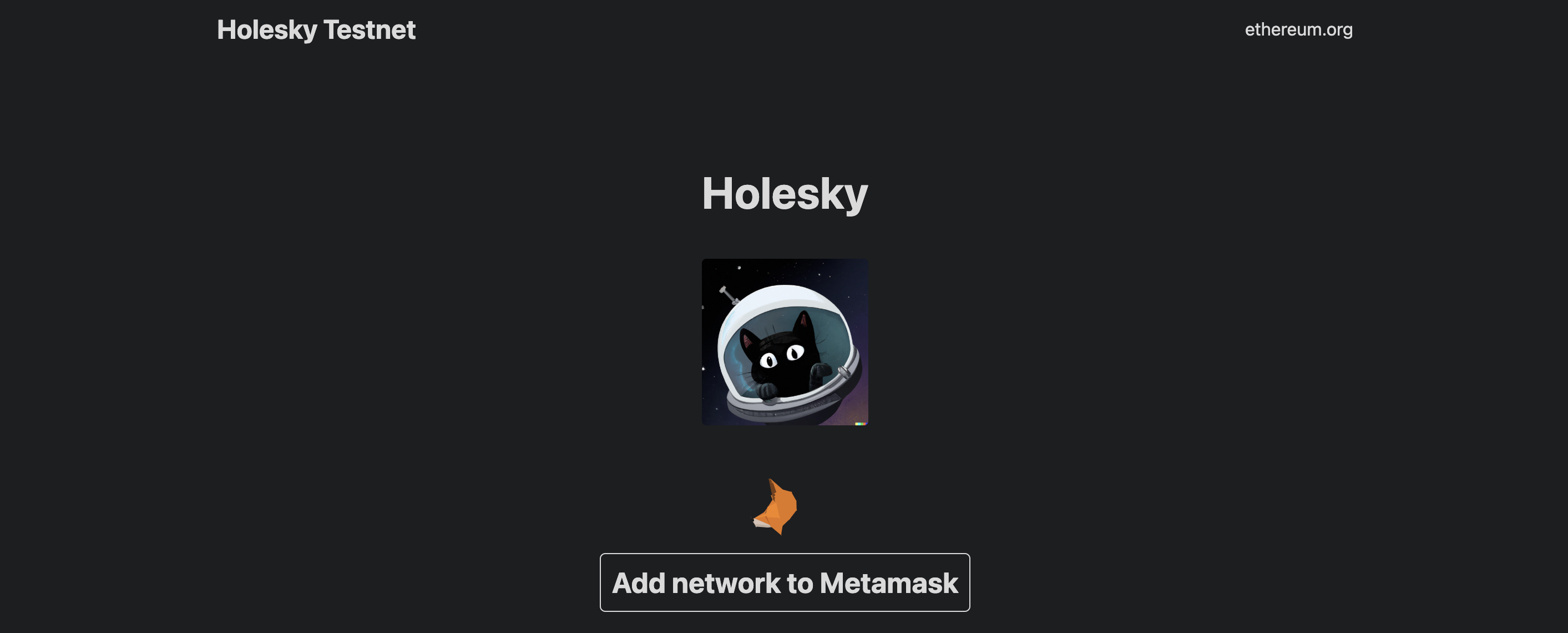 Bottom Line
The Holesky Testnet, the newest addition to Ethereum's repertoire, is ready to eclipse Goerli by offering a superior testing environment to the continuously advancing Ethereum developer community. For a smooth amalgamation of this testnet into your MetaMask wallet, ChainList, a proven provider of EVM network data, proffers an intuitive approach. This not only accelerates the procedure but also eliminates the roadblocks of manual data entry. For guaranteed precision, cross-validation with Holesky's official records or ChainList is always advisable.
Find more Metamask related guides here.