Singapore, August 31, 2023
Unikura today announced the launch of the Closed Beta version of 'Unikura,' a Web3 marketplace on the Ethereum mainnet designed to connect global collectors with Japan's unique collectibles.
In a world where collectors face numerous challenges such as limited access to quality products, potential counterfeits, and high storage costs, Unikura revolutionizes ownership of collectibles. "Whether it's an authentic piece of modern art or a rare item from your favorite musician, each one of us cherishes something," says Daisaku Harada, the founder of Unikura. "Web3 technology is accelerating the formation of these niche communities. We are challenging the traditional notions of 'ownership' and 'trust' through Unikura."
Why Unikura?
Collectors have long been hindered by limited access to quality global products, inadequate secure storage solutions, a prevalence of counterfeit collectibles, and a lack of places to share information about the collectibles. Unikura leverages the transformative power of blockchain technology for the Tokenization of Real-World Assets (RWA). Using Web3 technology, we tokenize each item, giving it a unique digital identity on the blockchain, while also providing secure, real-world storage solutions. This opens up new avenues for asset appreciation and community interaction.
Secure Vaulting
Unikura eliminates common challenges that come with purchasing collectibles from overseas, such as high shipping costs, customs duties, and language barriers. After acquiring ownership rights to a collectible via its physical backed NFT, buyers have the option to securely store the collections in designated warehouses. Whenever you wish, you can also redeem your physical backed NFT to have the physical collections delivered to you.
Hassle-Free Payments with Cryptocurrency
Unikura lets you pay directly with crypto wallets like MetaMask, so you do not have to worry about high payment fees and exchange rates that usually come with international payments.
Currently, we only accept Ethereum for payments, but we will gradually introduce support for other cryptocurrencies in the future. Please note that additional gas fees will apply when using Ethereum.
Collector's Community
Unikura hosts a Discord community where users can share updates about new collectibles, participate in exclusive conversations, and even enjoy real-world benefits. Physical backed NFT owners receive special invites to Unikura's real-life events, enhancing networking and exchange among collectors.
Seller Royalty – Turn Your Listing into an Asset
Unlike traditional marketplaces, Unikura offers sellers an ongoing royalty percentage each time the physical backed NFT of their item is resold, thus transforming your listings into lasting assets.
Limited-Time Offer: Up to 50% Off Physical backed NFTs
To celebrate the launch of Unikura's closed beta, we're excited to offer special discounts on physical backed NFTs available on our platform. From now through September 29, 2023, you can enjoy 30-50% off on all collections. While the platform is open for everyone to explore, you'll need a "Unikura Genesis Pass" to complete any NFT purchases.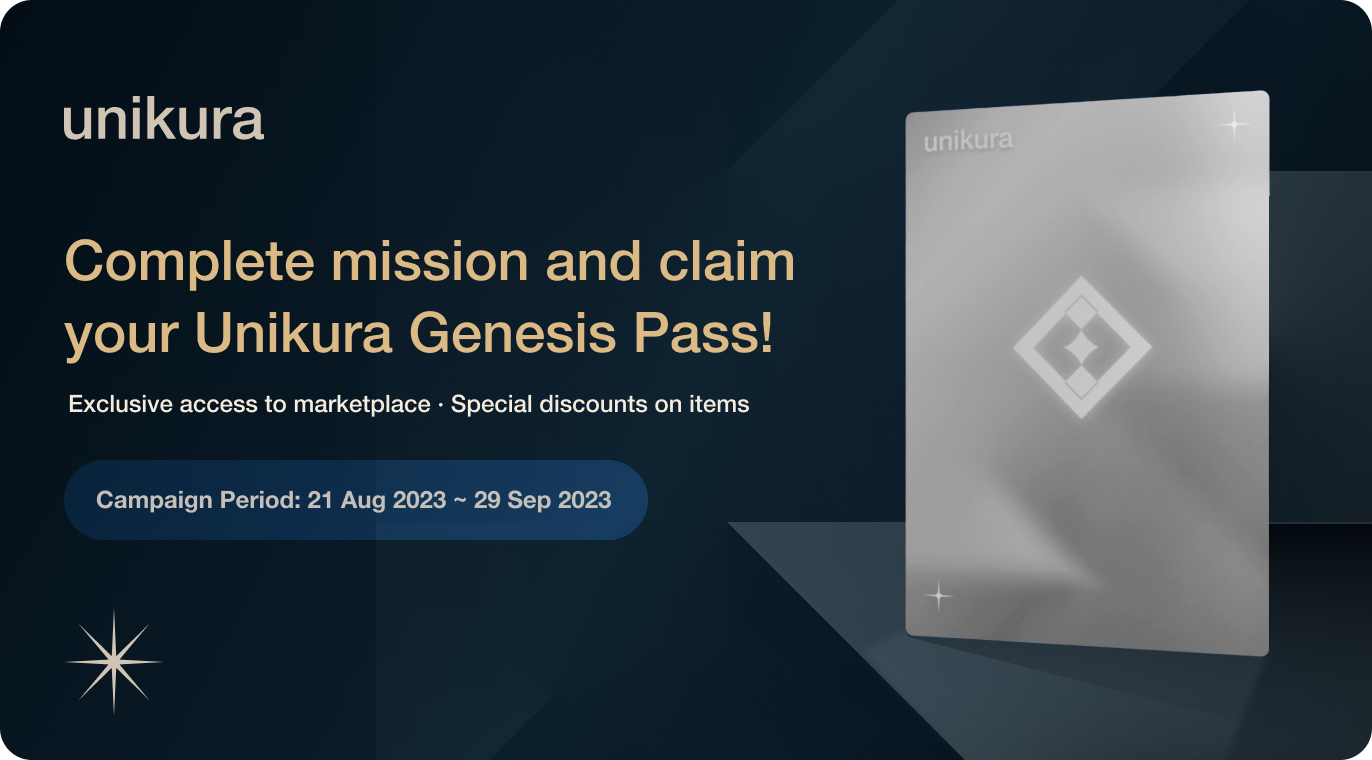 What is "Unikura Genesis Pass"
We're giving away Unikura Genesis Passes to anyone who completes a specific mission to join the Unikura community. This mission is currently hosted on the external platform, TaskOn. For more details, visit the TaskOn Unikura Campaign Page: TaskOn Unikura Campaign Page
The Unikura Genesis Pass is a unique, non-transferable NFT, issued as a Soulbound token.
Please be aware that additional gas fees will apply during the minting process.
---
Operating Company : VELVETT PTE.LTD. http://www.velvett.io
VELVETT is a Singapore-based technology startup established in 2022 and backed by a diverse range of investors from Japan, the United States, and the UAE, the company raised 3M USD in its initial funding round. VELVETT aims to change traditional industries by offering secure, transparent, and efficient platforms for global communities through Unikura.
Service Site: https://unikura.xyz/
Twitter: Unikura Twitter
Discord: Unikura Discord